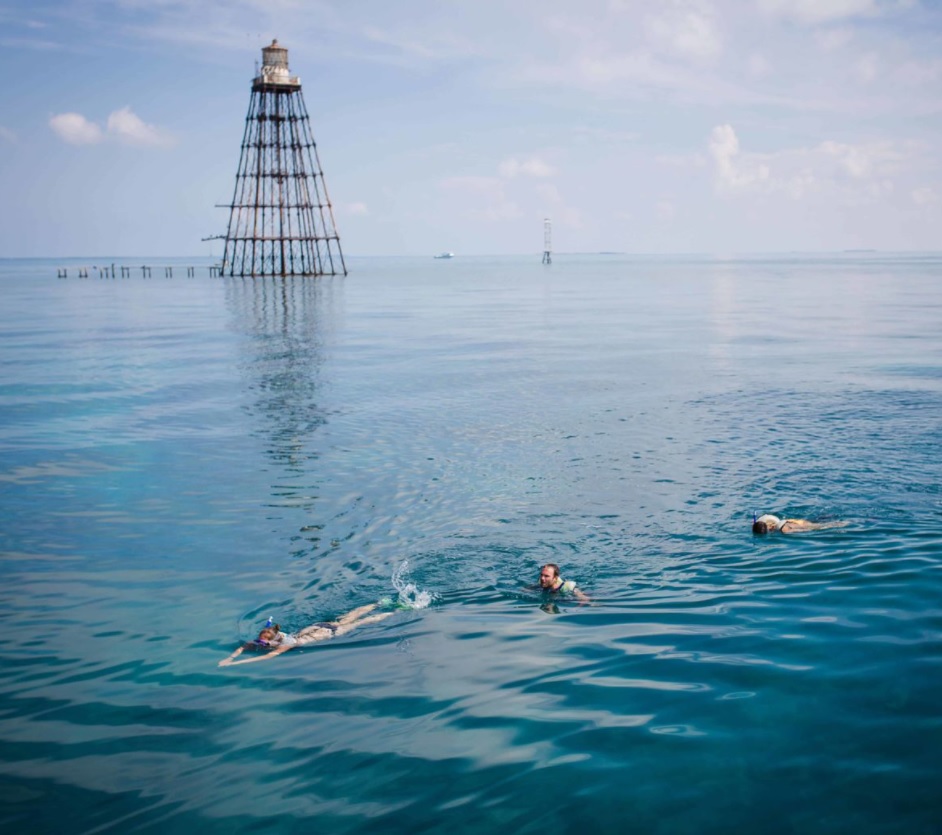 Dolphin & Snorkel – 11am to 2pm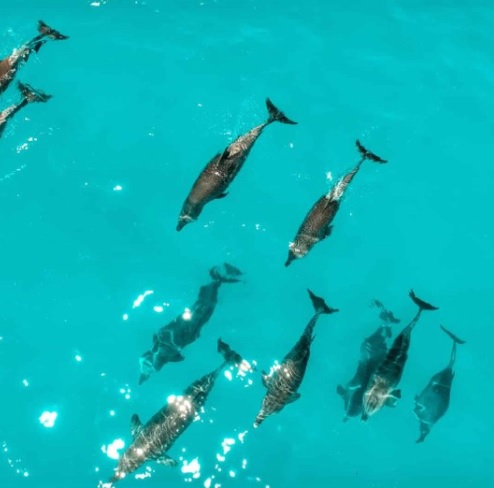 Join us for a morning trip out to the dolphin playground, a local hangout for Key West's dolphin pods. After we watch the dolphins jump and play right next to our dolphin boat, we will make our way to one of Key West's best reefs for a snorkeling adventure.
Keep your eyes peeled as it is not uncommon to see sea turtles, large and majestic eagle rays, or an array of colorful coral fish. Once you are done snorkeling, enjoy unlimited cold draft beer and soft drinks. Please check in 40 minutes prior to departure.
Departs from 201 Williams St, Key West, FL 33040
Adult : $54.95, Youth (6-12): $44.95, Under 5 : Free
Frequently Asked Questions
Where do you go and how long does it take to get there?
Our captains make sure to take our guests to the best dolphin & reef locations. We have been hanging out with the dolphins and snorkeling for a long time in Key West and our captains study the time of year, current, weather patterns, and much more to ensure our trips go to the best snorkeling location each and every day. We venture to a dolphin hangout called the dolphin playground to get up close and personal with our dolphin friends. Some of our popular reef locations are Sand Key Light House, Eastern Dry Rocks, Western Dry Rocks, and a few other secret locations
Depending on the reef location our sail out to the reef can take up to 40 minutes. Our brand new snorkeling catamaran is not only Key West's newest but the fastest as well. Beating all other boats out to ensure we get the best spot as well as ensuring our guests the most time in the water.
COVID Policy Overview
All equipment will be cleaned and sanitized prior to use.
Trips will operate at a reduced capacity.
All food and drinks will be served by our team members, who will be taking extra precautions to ensure safe prep as well as serving.
Hand sanitizer will be readily available throughout our facilities and on each boat.
We're proud to have been an industry leader for Key West watersports for over 35 years and we look forward to working together with our community leaders to overcome these challenging times. Now more than ever, we are grateful for our guests, team members & our Key West community. We encourage you to book your trips in advance and give you the assurance that you can cancel up to 24 hours to departure time for a full refund.
How do you get in and out of the water?
We have two large ladders that our crew will deploy into the water from the back of the boat. It makes it really easy to get in and out of the water. For those who are looking for a little more action-packed entry, we have multiple spots that you can jump in.
Are we allowed to swim with the dolphin?
Unfortunately, it is illegal to swim with the dolphins in Key West. However, we get you as closest as possible. You could almost reach out and touch them as they play in the wake right next to the boat.
Where do we meet for the dolphin tour?
Check-in 30 minutes prior at 201 William St, next door to the Waterfront Brewing Company and Schooners Wharf.
Are wetsuits available?
Wetsuit rentals are available for $20 for our dolphin tour.
Can we swim with the dolphins?
No, we observe the dolphins in their natural habitat from our catamaran. It is actually illegal to swim with dolphins in The Florida Keys. This trip gets you closer than ever!
Do we need to know how to swim?
Any level of experience in the water is welcome onboard. However, it is recommended that you have knowledge of basic swimming techniques.
What is your cancellation policy?
We have a 24-hour cancellation policy.
Is there parking?
There is a city-operated parking lot for around $4 an hour out front of our check-in location. Most of Key West is city-owned parking or reserved for residents.
What type of boat will we be on?
Introducing The "Miss Lora." Miss Lora is a BRAND NEW custom 55 foot Gold Coast Catamaran yacht that is coast guard approved for 125 passengers and is fully equipped and includes;
New snorkeling equipment
2 clean modern bathrooms
Full bar
Kegs of draft beer
State of the art safety equipment
State of the art sound system
Our crew consists of 1 master captain and 1-2 crew members
What is the difference between the morning and evening dolphin trips?
Both tours are the same length, but the later trip includes a sunset cruise on the ride back to the Seaport Pier.
What if there's bad weather?
Our captain will determine whether or not the trip is safe to depart. If we cancel for weather, we can reschedule your trip or issue you a refund.
What can you see while snorkeling?
Guests could see an array of tropical fish, sea turtles, and stingrays.